An eight part children's thriller involving stolen jewels and BMX bike riders.
Three million dollars in green fire! On the first night in her new city home, twelve-year-old Sandra Mitchell has a fortune in stolen emeralds dumped on her doorstep.

Now the adventure and terror begin. She cannot give them to the police because her father has already been wrongfully accused of the theft
Time is running out. With the help of her brother, and new friends as diverse as a computer whizz-kid and a BMX stunt rider, she must somehow outwit the ruthless motorbike phantom who wants his 'loot' returned.
ISBN 0 908690 46 0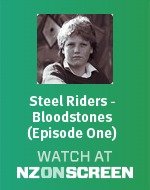 As pointed out by Geoff T, the series was edited down to film format for release on VHS as Young Detectives on Wheels.

The eight-part series was consolidated into these twin TV movies which have recently appeared on NZonscreen