The NZBC's first television serial is concerned with the investigations of a British security agent into deaths and disappearances among members of a worldwide intellectual elite known as the Alpha Society. When the society's international seminar was held in Auckland the agent finds himself thwarted in his enquiries, accused of murder and on the run…
The series premiered on WNTV-1, Sunday, September 14 1969, 8.30 p.m.; then on other channels on Sundays in successive weeks.
Episodes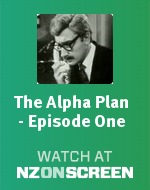 Ep.1 - An overseas flight arrives at Auckland Airport. Among the passengers are several members of the Alpha Society, a world-wide organisation planning a conference in New Zealand. But it is another passenger. Professor Stanton, who attracts unusual interest.
Credits
Professor Stanton: Bruce Montague
Judy Foster: Kay Gaylor
Elaine Vanderburg: Barbara Latham
Carl Elstrand: Barry Hill
Man On Telephone: Lawrence Hepworth
Hodgkins: Bill Johnson
Johnny Ranui: Craig Ashley
Henchman: Kevin Wilson
Producer: Chris Thomson
Writer : Roy Hope
Editors: Bernard Crook, Don Montgomery
Designer: Anthony Stones
Percussion Score : Bruce Gaylor
Ep.2 - Professor Stanton seem to have more than one double in Auckland. One of them lies dead in his hotel room.
Also starring Peter Vere-Jones.
Ep.3 - After escaping from a meeting of the Alpha Society, Mike Jennings discovered Judy in the back of the stolen car. But her brother is uncooperative.
Also starring Bill Johnson
Ep.4 - Under the surveillance of the Alpha Society, Mike Jennings made his way to the Hydrofoil wharf. His arrival had been anticipated.
Also starring Peter Vere-Jones.
Ep.5 - An unwilling guest of the Alpha Society, Mike Jennings, is trapped on the island. Edward has been accepted as a member of the society/
Ep.6 - Mike Jennings has met the leader of the Alpha Society and discovered something of the nature of the Alpha Plan. But he is unable to interfere.
Also starring Peter Vere-Jones and Barry Hill.
The series was the Winner of the 1970 Feltex Award for Best Light Entertainment.

Above: Barry Hill as Carl Elstrand, Kay Gaylor as Judy Foster, and Bruce Montague as Professor Stanton.

Peter Vere-Jones as Mike Jennings, Fred Betts as Barney, and Peter Vere-Jones with Kay Gaylor

Doctor Sterbling (played by Roy Leywood) addresses members of the exclusive Alpha Society who have gathered in New Zealand for an international seminar. Elaine Vanderburg (Barbara Latham, left) and the mysterious Carl Elstrand (Barry Hill, right) pay more than usual attention.
Production
In this article from the September 13 1969 edition of New Zealand Listener Roy Hope, who wrote the script, explains how the serial evolved. Mr Hope was director of drama for Rothman's Cultural Foundation and was well known to listeners as an actor, writer and producer of radio plays. The colour photos were taken by Christopher Moorhouse.
It all started well over two years ago I had a letter from Roy Melford NZBC's chief television producer, asking if I'd be interested in submitting a draft scenario for a projected TV thriller serial of about 6-hour episodes. His only stipulations were that the story should be set entirely in New Zealand and the fullest use be made of local colour for exterior film sequences. This appeared to be the limit, so I decided to concentrate on the local colour first and see where that led me. Living in Auckland it was obvious that I should stick close to home, and once I started to look around this seemed no lack of suitable locations.
There were drives over the Harbour Bridge to the North Shore, my children's excitement at catching a glimpse of the hydrofoil skimming across the Harbour or watching the jet's landing at the airport; a quick trip to Pakatoa Island; a day's sightseeing from a friend launch; eating and swimming at Missions Bay; and many more excursions. They suggested a plot centred around Auckland Harbour and a Hauraki Gulf. But then there was the city as well with its new multi Storey buildings, hotels, and the familiar sight of a cheerful gang of Maoris dustmen running along the street in football shirts and shorts, tossing dustbin lids at each other with incredible skill. And what about a high-speed car chase sequence down the Southern Motorway? I seemed to have more than enough ingredients but still needed a recipe.
I had previously written or adapted a number of a thriller plays and stories for radio but had usually set them in overseas locations where New Zealand listeners would be more likely to accept the existence of large-scale organised crime is the analogy and smuggling rings and similar skulduggery. The problem was to imagine such a story set in this country which would not tie in too closely with particular places and people, and which would be both credible and exciting to viewers. I came up with an idea that had been at the back of my mind since a chance conversation with a doctor friend. He had joined in England an exclusive society for intellectuals called Mensa (here I must, I suppose, insert the usual disclaimer that the any person or persons in the play do not represent or are intended to re-present… Etc. I know next to nothing about Mensa beyond the extent of its existence, and I've never dared to apply for membership in case my IQ doesn't measure up.) Anyway, and for no good reason that I can think of, Mensa has metamorphosed into the Alpha Society, and I started to invent characters - good, bad, and fish red herring.
They came from all over the world - Professor Stanton from Cambridge University, Dr Elaine Vanderburg from America, Carl Elstrand from Scandinavia, and a mysterious young man from London, Mike Jennings. Local characters included a young reporter, Judy Foster, and a middle-aged gentleman, Hodgkins, who together with his assistant, Honi Ranui, seemed more than interested in everyone's comings and goings. It got off to a flying start; finishing it was a different matter.
Roy Melford was in was interested. He commissioned me to write the first two episodes together with a detailed synopsis of the remaining four - including the obligatory cliff hanger endings. At last I was working with dialogue, and the characters who had started life as pegs to hang the plot on began to assume their own reality. The last four episodes were commissioned and completed. I sat back with relief, imagining that my only remaining problem was how to spend the money.
I received a rude awakening when contacted by Brian Bell, who had been assigned to produce The Alpha Plan. He told me - Kindly but firmly - that there was still quite a bit of work to be done on the script, and he meant what he said. He was making no concession to local limitations, either technical or artistic. As far as he was concerned it was a full-scale production and he was convinced we had technicians and actors equal to any demands. His main concern was to exploit the visual aspects and pare the dialogue down-to let the picture tell the story as much as possible.
Production was postponed, and Brian let for Australia. I should like to acknowledge my great debt to him. His experience of the medium and his technical expertise gave the final script a polish I could not possibly have achieved without his help.
It seemed The Alpha Plan had passed into the limbo of forgotten projects. Then, towards the end of last year, Chris Thomson took over production. I made one or two minor changes to the script and spent a fascinating six months watching the serial become reality.
As a producer in radio and theatre I knew almost all the actors: Bruce Montague, his wife Barbara Latham, and Fred Betts from the Canterbury Theatre Company and Auckland's Mercury Theatre; Kay Gaylor and Peter Vere-Jones from early days with the New Zealand players; Barry Hill from Downstage and the Mercury; Laurence Hepworth, Bill Johnson and Roy Leywood from radio, and many others. It was just as well they were all experienced professionals, since even Auckland's renowned climate was not reliable enough to ensure six months of fine weather, so the outdoor filming for all six episodes had to be completed before the company moved into the studio to start again at the beginning.
This method worked well but led to difficult continuity problems for cast and crew. Everything from clothes to hairstyles to the way the wind was blowing had to be checked and re-checked so that sequences filmed in February would match exactly with studio scenes videotaped In June. The filmed sequences became a major exercise in logistics for Chris Thomson and his assistants Janice Finn and Ian Morton. With a full cast list of about 120, getting actors and technical crew to the right place at the right time, making sure they got fed, and then getting them all home again, became a series of major operations. A whole week was spent on Pakatoa Island and the amount of night filming involved made everyone wish they had taken much warmer clothing with them. (Not that this would have helped Bruce Montague, who spent several shivering hours standing in the sea fully dressed.)
At last work began in the studio. David Gardner was the technical director, and Anthony Stones designed the sets. Probably the best compliment at one can pay them is that their work will hardly be noticed. As Tony once remarked to me, in a production of this kind it is the designer's aim to remain invisible. By this he meant that the constant cutting from film to studio and back again should be taken for granted by the viewer. Nevertheless, I was impressed by the ingenuity with which he was able to squeeze five or Six sets into a studio possibly only a quarter the size of TV studios in London and Hollywood. I was also astonished by the reality he was able to recreate. I don't want to give too much away, but those scenes in the Auckland Airport Building, or by the Swimming pool at Pakatoa—are they, or aren't they?
I like to recall the day they filmed the sequence with the dustmen. (Yes, I did manage to get them in.) A suburban street was selected, and all the residents told in advance. Came the dawn and every householder was up and about polishing windows, cutting lawns and trimming hedges before the cameras arrived!
Now it's all finished. Six months to produce, six weeks to edit: Bruce Gaylor's music composed and recorded; all the episodes in the can and lots of bits on the cutting-room floor. Whether audiences and critics like The Alpha Plan or not, I think we have proved that New Zealand television can make it.

Members of the Cast: From Right to Left. Craig Ashley (seated), Barry Hill, Ian Shaw, Fred Betts, William Johnson, Kay Gaylor, Peter Vere-Jones, and Roy Laywood
Chch Actors In TV Serial
The Press, Volume CVIII, Issue 31870, 24 December 1968, Page 9
The well  known Auckland actor, Bruce Montague, fomeriy of Christchurch and now a leading figure in the Mercury Theatre, is to play the hero in Roy Hope's six episode television thriller, The Alpha Plan, next year.
The series will also feature the Christchurch actor, Fred Betts, who has been in Auckland for two productions with the Mercury Theatre. Both Mr Betts and Mr Montague are at present appearing in Mercury's production of Lock Up Your Daughters.
Filming of the serial will begin next month, soon after the play ends its run. Mr Montague's wife, the actress Barbara Latham, will play one of the leading female parts in the serial.
Mr Montague has appeared in a number of television plays and serials.
Since he arrived in New Zealand in May, 1967, to join the ill-fated Canterbury Theatre Company, Mr Montague has written scripts for N.Z.B.C. radio and has delivered almost 100 radio broadcasts.
He joined the Mercury Theatre as associate director at the beginning of this year, produced Alfie, Fings Ain't Wot They Used T'Be, Wait until Dark and There's a Girl in My Soup, and played leading roles in most other Mercury productions.
Filming of The Alpha Plan will continue to the end of June and after that date Mr Montague has no definite plans.