From The Listener December 2, 1972
A young man arrives at Wellington Airport. Customs officers are suspicious about him. While they interview him, something unexpected happens. The police are called in to find a retired schoolteacher called Mrs Amelia Oliver who is somehow connected with the young man. In the course of their inquires they investigate several deaths and missing bodies that appear to implicate the old lady.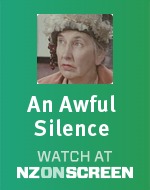 These are the bare bones of An Awful Silence - the first thriller filmed in colour by the NZBC for domestic and overseas viewing. The hour-long play won the thriller section on last year's Ngaio Marsh television play contest. It was written by Vincent Ley.
For producer David Stevens the project was a demanding one. "An Awful Silence' is the first play we've done which must compete in every way with the best overseas productions such as The Avengers, he says
Finding the right locations for filming in Wellington was not easy. '' One of the key things is Mrs Oliver's old house. It had to lock exactly right. We spent weeks looking at every old house in Wellington and began to despair. And then we found a place that was marvellous, with all sorts of bizarre rooms. It's called Charnwood and it's about 100 years old.
The play was David Steven's swan song in New Zealand. After five years with radio and TV here, he has accepted a directing job with an Australian Film Company. His previous productions include Compass, the plays Genuine Plastic Marriage and Arthur K. Frump, Half a Fairy Tale, (a documentary on the Sheep Stealer McKenzie) and episodes of Pukemanu and Section 7.
He delayed his departure to produce An Awful Silence because he considers is a special piece of work "Of all the thrillers I read in the playwriting competition, it was the only one which seemed to me to work on its own terms. It has style, which is a rare thing to find in a thriller and is an incredibly hard thing to define. What I mean is that it is not ramshackle. It has a sense of humour and a bizarre plot. There is suspense not only in the base plot, but also in the peripheral things that happen.
"The play is a good and effective thriller which just happens to be set in New Zealand. If the public like to think of it this way rather looking to find the Great New Zealand Play, then I think they'll like it."
A total of 60 actors, a few professional but most amateur, make up the cast.
The lead role of Amelia Oliver is played by Wellington's Davina Whitehouse, who hasn't been in front of a camera for 30 years.
Davina come into my mind the moment I read the play." Says David Stevens. "I thought this is the part for her." She's a marvellous actress, a very funny person and a very wise woman."
Since taking small parts in over 30 films while in England in the 1930s, Mrs Whitehouse has established her New Zealand reputation in radio and stage drama.
Others featured are David Tinkham (Famous for his Wellington pantomime dames), Alan Jevis (Feltex Award winner for his title role in the The Killing of Kane) Hazel Cole, Susan Wilson and Michael Morrissey
Another man closely involved in An Awful Silence is Wellington composer Ian McDonald (Listener April 24). He has written a score which he describes as ranging in style from baroque to big band to avant-garde. "It's intended to do more than reinforce the emotions of the situations in the play," he says. "It includes transformations of an old revival theme called "Sweet By and Bay.' The hymn is actually played by a brass band and I take it up as a theme to elaborate on in various forms in different scenes"
The score is Ian McDonald's first venture into TV Drama but he had already established a solid reputation for radio and TV documentary work and music for radio plays
Monday December 4, 9.17pm