Court room drama following Alf Hanlon in the 1900s
An eight-hour series for Television New Zealand starring David Gwillim as Alfred Charles Hanlon and Sylvia Rands as Polly Hanlon. The series was written by Ken Catran, produced by Lex Van Os and directed by Wayne Tourell.
A book was released alongside the series:
Hanlon: A Case Book by series writer Ken Catran
Published in 1985.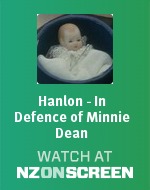 Script
One of these turned up for sale on ebay in the states, wonder how it ended up over there....
Production Manager Brian Walden sent some pictures of work on set in and around Omaru. Brian believes they were take by either Michael O'Connor (camera man from Christchurch) or David Caldwell.

Oamaru building_stands in for the Invercargill Courtroom

Oamaru stands in for The original Dunedin railway station