Page 1 of 3
Life in a rural town where the main employer is a sawmill.
Season 1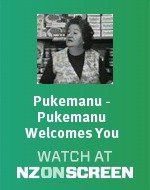 Pukemanu Welcomes You (Screened on Central TV, other regional channels after that.)
A bikie gang pass through the quiet forest town and an unexpected relationship develops as a woman seeks to escape domineering parents.
Credits: Diana Thorpe: GINETTE MACDONALD
Tahu: GRANT MCFARLAND
Phyllis Telford: PAT EVISON
Dr Rhyder: IAN WATKIN
Ray: GEOFF MURPHY
Angus: TOM POATA
Colin Thorpe: ALEX TROUSDELL
May Thorpe: DOROTHY TOOGOOD
Si Lamb: BERNIE MARSH
Denning: HARRY LAVINGTON
Bikie gang members include: BILL STALKER, BRUNO LAWRENCE
Producer: MURRAY REECE
Writer: JULIAN DICKON
Film Cameraman: MAX PUDNEY
Film Editors: SIMON REECE, TEX JONES
Designers: KEN GOODMAN, MALCOLM FARMER
Executive Producer: DOUGLAS DRURY
Risk Extreme
Writer: Julian Dickon
A man on the run aggrivates tension in a town preoccupied with a severe midsummer drought.
Kevin Wilson, Wilter Pym, Grant Tilly, Sue Hanson, Noel Trevarthen. Producer, Terry Isaac.
What would uncle Harry Say?
Writer: Julian Dickon
Mark Gold's plan to enter the trucking industry by his brother David.
Noel Trevarthan, Peter Vere-Jines, Dorothy Smith, John Johnstone, Dorothy McKegg, Tony Barry, Christine Bartlett. Producer David Stevens
Convenient Excuse
Writer: Michael Noonan
A girl is forced to re-examine her decision to teach in Pukemanu when she unwittingtly antagonies part of the community.
Derryn Cooper, Peter Vere-Jones, Han Van Wamel, Pat Evlson. Producer Murray Reece.
A Soft Answer
Writer: Hamish Keith.
Feelings run high between truck drivers and a local farmer over access to a forest block.
William Johnson, Robyn Cox, lan Mune, Pat Evison, Grant McFarland, Tom Poata. Producer Donald Hope Evans
Charlie's Rock
Writer: Hamish Keith.
A simple business decision intrudes on Maoritanga.
Ernie leonard, Helen Harte, Henry Northcroft, Jackson Smith, James Moriarty,Molly Wanikau, Peter Vere-Jones. Producer, Tony Isaac(final)

Above: Noel Trevarthan, Christine Bartlett, lan Mune, and Robyn Cox