Page 1 of 9
Twice weekly Kiwi soap opera following the ups and downs of Wellington's Hearte family.
1975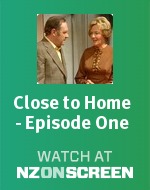 You can say a lot against my family said pop Hearte in 1975, But we've all stuck together.
The Hearts were close-knit in those days. Don and his wife, Val, had their three youngest children at home. Lyddie was nursing, Alan had visions of himself as a musician, and Caro was still at school.
The other children weren't far away either. Tom and Viv Heart lived just round the corner, and Jane, the eldest daughter, was following in her mother's tradition of large families. She and her husband Alex Fleming, had four children: Chris, Nicola, John and baby Katie
Don's sister, Dot Paget, had her hands full looking after their father, her son, Stephen, and her husband Ken. Pop Heart was far from well in those days. Retirement was no easier for him than it was later for his son. He was drifting into old age with a marked lack of grace.
Don and Val had a large house with a couple of flats attached. Val's sister, Christine Lovatts, lived in one, and Don's oldest friend, Peter Wallace, occupied a happy mess in the other.
And life, initially, seemed fairly settled. Don worked on the local newspaper as a sports journalist, and Val was practically running Heart and Symonds.
Val and Christine were eagerly awaiting a visit from their parents, Milos and Mary Lorvatz. Christine had hopes that her father would finance a new company for her. She was a successful dress designer and wanted to set up on her own. Milos always breezed into their lives bearing enough food and wine for an army and proceeded to take over the kitchen. And this time seemed no exception. For a few days they settled into a Yugoslav family reunion, full of noise and laughter.
But Milos didn't mention his chest pains, although Mary was worried about them, and his heart attack in Christine's flat shocked them all
Val became very depressed and resigned from Heart and Symonds, leaving the foreman, Harry Tripp, to carry on. It wasn't a good decision. She couldn't find a job, and became introverted. For Pop Heart, though, it was the start of a new lease of life. He started playing around with designs for A-frames and came up with a modular housing scheme which looked very promising.
Life was more turbulent for Jane and Alex Fleming. Jane was behaving more and more strangely. Depressions alternated with frantic highs, and a fit of uncontrollable violence one night resulted in her being admitted to Moenui Psychiatric Hospital.
Alex employed a housekeeper until Jane was discharged. Which is how Mrs Featherstone came into their lives. She loved looking after the children, and on Jane's return, found her own house unbearably quiet. So she started taking in boarders. Hilary "Larry" Walters was the first, a zany girl studying for her master's degree in political science.
Pop Hearte startled his family by announcing he was going to see Scotland again before he died, and he headed off on his own. He returned via Darwin, just after the city was destroyed by a hurricane. He also returned with a contract to supply his A-frames there. He left Mike Laughton, an old boyfriend of Christine's in charge of the firm, and went back to Darwin looking years younger.