Twice weekly Kiwi soap opera following the ups and downs of Wellington's Hearte family.
1975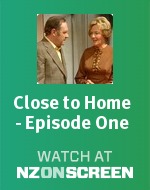 You can say a lot against my family said pop Hearte in 1975, But we've all stuck together.
The Hearts were close-knit in those days. Don and his wife, Val, had their three youngest children at home. Lyddie was nursing, Alan had visions of himself as a musician, and Caro was still at school.
The other children weren't far away either. Tom and Viv Heart lived just round the corner, and Jane, the eldest daughter, was following in her mother's tradition of large families. She and her husband Alex Fleming, had four children: Chris, Nicola, John and baby Katie
Don's sister, Dot Paget, had her hands full looking after their father, her son, Stephen, and her husband Ken. Pop Heart was far from well in those days. Retirement was no easier for him than it was later for his son. He was drifting into old age with a marked lack of grace.
Don and Val had a large house with a couple of flats attached. Val's sister, Christine Lovatts, lived in one, and Don's oldest friend, Peter Wallace, occupied a happy mess in the other.
And life, initially, seemed fairly settled. Don worked on the local newspaper as a sports journalist, and Val was practically running Heart and Symonds.
Val and Christine were eagerly awaiting a visit from their parents, Milos and Mary Lorvatz. Christine had hopes that her father would finance a new company for her. She was a successful dress designer and wanted to set up on her own. Milos always breezed into their lives bearing enough food and wine for an army and proceeded to take over the kitchen. And this time seemed no exception. For a few days they settled into a Yugoslav family reunion, full of noise and laughter.
But Milos didn't mention his chest pains, although Mary was worried about them, and his heart attack in Christine's flat shocked them all
Val became very depressed and resigned from Heart and Symonds, leaving the foreman, Harry Tripp, to carry on. It wasn't a good decision. She couldn't find a job, and became introverted. For Pop Heart, though, it was the start of a new lease of life. He started playing around with designs for A-frames and came up with a modular housing scheme which looked very promising.
Life was more turbulent for Jane and Alex Fleming. Jane was behaving more and more strangely. Depressions alternated with frantic highs, and a fit of uncontrollable violence one night resulted in her being admitted to Moenui Psychiatric Hospital.
Alex employed a housekeeper until Jane was discharged. Which is how Mrs Featherstone came into their lives. She loved looking after the children, and on Jane's return, found her own house unbearably quiet. So she started taking in boarders. Hilary "Larry" Walters was the first, a zany girl studying for her master's degree in political science.
Pop Hearte startled his family by announcing he was going to see Scotland again before he died, and he headed off on his own. He returned via Darwin, just after the city was destroyed by a hurricane. He also returned with a contract to supply his A-frames there. He left Mike Laughton, an old boyfriend of Christine's in charge of the firm, and went back to Darwin looking years younger.
1976
About this time the Hearte family started to break up. Alan and Lyddie went to England, and Caro started at Massey. The combination of no job and an empty house quickly became too much for Val. Her depression deepened. 
She and Don were bickering, too. They'd just made a pact to work harder at their marriage when Val was killed in a car crash. She was driving, and her sister Christine was injured as well.
Jane went to live in a commune, because she couldn't settle down at home. Don visited her there and was forced to admit that she seemed happier.
The old Hearte house was very empty now, and Don was easily persuaded to look for somewhere more practical. He found a block of flats with the help of Mike Laughton who always had an eye for the main chance. Mike made $3000 commission on the sale, and lost a few friends.
It was around this time that Mike proposed to Dr Pip Osborn. His humiliation at being turned down was intensified when her engagement was announced almost immediately to Dr John Standish.
Pip and John married at Easter.
It was to be a simple affair, until the arrival of Pip's mother, that is. Madeleine Osborn quietly and sweetly turned it into the biggest wedding of the year. And it would have been the smoothest running, as well, if Jane hadn't turned up in the middle of the service, and the vicar hadn't fallen into the cake.
Jane took the children back to the commune with her, and Alex started work at the Anakiwa Outward Bound school.
Pop and Pete's racehorse, Danzig, had been in training for some time. "A born winner," said Pete. But who ever believes Pete? So it was only as a gesture that they bet on her for her big race. Except for Tom, who'd just resigned from the high school with the princely sum of $300 to his name and a baby on the way. He put the lot on Danzig. And won. It might have been a strain waiting for the result, but it gave him enough. money to take Viv up to the Bay of Islands.
Stephanie Paget returned to New Zealand, pregnant, and happily unmarried. It was only as a courtesy that she informed the father, David Coleridge, of the approaching birth. He caught the next plane, but Stephanie had no plans to get married.
Pip delivered the baby, a fine daughter named Alice, only a short time after the birth of Tom and Viv's son, Andrew. And when Pip and John left for Canada, David persuaded Stephanie to live with him in their flat.
Christine's new business, the House of Lorvatz, boomed after she won a major contract from fashion buyer, Simon Laing.
Larry was still at Mrs Featherstone's, but not for long. An old boyfriend, Johnnie Martin, turned up reviving her somewhat shady past. Johnnie had always been in
trouble, frequently dragging Larry with him. This time she'd had enough. When the police came round to question her, she packed her bags and ran.
Johnnie was unperturbed. He managed to con Pete out of his van in a card game, and used it the same night to burgle Hearte and Symonds.
A new family moved in next door to Mrs F. Marge and Ted Clifford had two sons, Roy and Hugh. Mrs F's new boarder, Faith Wilson, was far from impressed with them, but Marge and Mrs F had a lot in common, including a love of fortunetelling. Mrs F. was as surprised as anyone though, when she won a trail-bike on "It's in the Bag." Since she couldn't even drive a car, it was little use to her, and she was happy to sell it to Hugh Clifford.
Ken Paget's mother fell ill and died in Wales, and he went home for the funeral. Dot was dealing with some rather strange people at the local community centre, and hoping that Stephanie would make up her mind to marry David.
1977
Living in one of the flats, it wasn't surprising that Stephanie was one of the first to notice there was something wrong with Don. He'd started a novel about his war experiences, but this was to cover up his fear that his sight was failing, and tests showed it was likely to worsen.
Stephanie was becoming more and more restless, and it was with some relief that David packed her and Alice off to stay with his mother in South America.
Designer Simon Laing turned up again, and was showing as much interest in Christine as in her designs. They became engaged, but Christine had growing suspicions about Simon's motives. He appeared to be copying her designs, and her flatmates, Geraldine and Riki, suggested that Simon was simply using her to help his own business.
The planned marriage was postponed as Simon left hastily for Sydney.
The Princess, ever a source of fascination for Pete and his mates, was taken over by Lorraine Williams. She and the barmaid, Daphne Bodlin, detested each other on sight, and it wasn't too long before Daph resigned and left for Auckland.
This was the year that pop music came into the programme. Hugh Clifford, who was involved with a group called Red Rose, had visions of being an entrepreneur. The group performed with Alex's girlfriend, Sammy, and had some success. But Hugh found life rather difficult when his parents went back to Twizel, leaving him in the care of Faith Wilson while completing his School Certificate. He didn't even have Mrs F around the place to comfort him. She'd gone to stay with' her daughter, Ruth, in Adelaide. Still, they did make a trip to Woodbourne to see Roy. It only convinced Hugh that the world of pop was far more exciting.
Dot Paget had always been active in the community, and though hesitant when she was asked to stand for the council, realised she could work more effectively with that power behind her. She only just scraped in, but there she was, Councillor Paget, with the phone ringing day and night.
The Pagets had quite a bit to cope with. The bakery had been closed temporarily because of a health scare, and in the middle of the elections, Stephen came back from Te Puke, and dropped his bombshell. He was married. Not only that, but his wife was seven years his senior, and had a couple of children by a previous marriage. Dot hardly had time to absorb the news, before his family arrived. Shirley, Gayle and Eddie were far from Dot's dream of her son's family. An older woman with a problem daughter didn't augur well for Stephen's future.
Ken had recently taken on a new baker, Maggie Grey. He couldn't understand her antagonism towards Stephen until Gayle solved the mystery. Maggie was in fact her half-sister, Huia Pritchard, from a previous de-facto marriage of her father's. Maggie, as she now called herself, had been close to Gayle, but her relationship with Shirley had been strained.
In Stephanie's absence Maggie was becoming involved with David, a situation Riki didn't approve of. Christine, Riki and David were now flatting together. Simon Laing was given his marching orders by Christine and added insult to injury by heading off again to Sydney with Geraldine, a former flatmate.
Jane Fleming was now happily settled in the South Island with the children. She applied for custody, and asked Alex for a divorce. Alex agreed. He'd made himself a new life and saw little chance of the family reuniting. His girlfriend, Sammy James, was a singer, and for a time it looked as though they might marry.
1978
1978 was a year of births, deaths and marriages for Close to Home. The year started with tragedy. Mike Laughton was drowned in January, leaving Hearte and Symonds without a manager. David Coleridge applied for the position, which drew sceptical comment from Don and Alex. But when David's father arrived from England with a major exporting proposal for the firm, it was agreed to give him a six month trial at the job. David's annoyance at his father's interference didn't stop him taking it.
Everyone was surprised - and some were dismayed - when David and Christine Lorvatz became engaged. Dot remarked to Ken with some bitterness that younger men seemed to be fashionable.
Stephen and Shirley were finding it difficult to settle down. Gayle wasn't helping, of course. She didn't like school, and was still extremely wary of her new step-father. And just when things started to calm down, Derek Pritchard, her father, turned up again making a play for Shirley. It led to a royal punch-up with Stephen from which Derek emerged the loser.
Christine, much in love, suddenly made an appointment with her doctor. A surgeon confirmed that she had breast cancer. It wasn't easy for David to accept, either, and he was surprised to find that Hal Mulholland was the person who helped him come to terms with her mastectomy. Hal's wife had died of cancer six years earlier.
But Faith Wilson had noticed that Hal was drinking something stronger than tea at school. It was brought into the open the night someone set fire to the school when Hal, hopelessly drunk, cracked under the pressure.
That was the night Shirley told Gayle she couldn't keep a kitten she'd found. The school arson attempt was the manifestation of all Gayle's frustrations. She was found out, suspended from school and put on probation for two years.
Shirley was pregnant. She had mixed feelings about the new baby, but Stephen and Gayle were delighted. They went to David and Christine's wedding making plans for their new family.
But a few days later Stephen, who had called for Shirley at Hearte and Symonds where she was working, was shot dead in an armed robbery. Gayle helped her mother through this. Dot took much longer to recover from the blow. Then Shirley's baby was born prematurely. The baby, Angela, lived for a week but died of pneumonia.
Madeleine Osborn billowed back into the lives of Don and Pete. She arrived from Christchurch to work on the election campaign and promptly took over Don's flat for an office. She took over more than that too. No-one was more horrified than Pete when Don accepted Madeleine's proposal of marriage.
Don and Madeleine returned from an idyllic honeymoon which convinced them, if not the rest of the world, that their marriage was made for success.
Christine and David had bought Mike Laughton's old house, and Christine started receiving strange phone calls from a woman asking for David. She became suspicious, with good reason. Stephanie had arrived back. The news of David's marriage was almost as much a shock for her as her brother's death.
At the Princess, a sober Hal Mulholland was courting Lorraine. She was both amused and flattered. Then her younger brother, Jerry Watson landed on her doorstep reviving memories of her lurid past. Jerry was a conman and a charming rogue. He was also illiterate, a fact which he hid skilfully.
He and Hal boarded with Mrs F and Hal's suspicions grew. One night at the Princess Jerry innocently spiked Hal's drinks and this brought things to a head. Hal confronted him with his 'suspicions about his illiteracy and then taught him to read.
Stephanie had brought Alice back with her. She'd been living it up overseas and David and Christine disapproved. They decided to adopt Alice and a major custody fight ensued. It split families and friends and Stephanie's final victory was a great cost to herself.
Riki had been painting with new vigour, and had a major success with an art exhibition. He took leave from school to paint full-time and when he went to the country with his uncle, Sonny, Maggie was furious. She allowed Jerry to move in with her, and if she had ideas of a platonic flatmate, well, Jerry was prepared to bide his time.
1979
Strange things were happening at Hearte and Symonds. David was involved in some wheeling and dealing that looked fairly suspicious. Or so it seemed to Shirley, who arrived back and took up her job in the office. And Christine wasn't unaware of the tensions. Her hopes of pregnancy had come to nothing and she was seeking consolation in the sherry bottle.
Ken was getting fed up with the bakery. It was old, and another health scare had caused yet another closure. He decided to sell out. The buyer, Mrs Perkins, left much to be desired, according to Maggie and Mrs Featherstone.
Finding a job at his age wasn't easy though. Experiments with hair dye and lying about his age got him nowhere. Dot decided to sell her shares in Hearte and Symonds and invest in a new business. She also took Ken up to Taupo to see Stephanie, Alice and her father.
While they were away Hearte and Symonds went bankrupt. The company had overextended, and when a Malaysian deal fell through, they went into receivership. Pop rushed down to Wellington, bought back Dot's shares and returned the business to the small joinery firm it was originally. David resigned and joined the others in Taupo for a few days. He saved Alice from falling into a hot pool, but fell in himself and was badly burned.
Mrs Featherstone and her new boss, Mrs Perkins, were fast becoming arch enemies. It was with great relief that Mrs Featherstone heard that Dot had bought a new house and bakery in a shopping mall. "Much cleaner, and closer to the bus stop," in her opinion.
Jerry, too, had been up to some business tricks. He managed to sell Pete's van for him. Pete was having financial problems, as usual. So Jerry sold the van - and kept back some of the money for himself. He put this on a horse, which won, and the resulting row with his sister Lorraine, could have been heard for miles around.
He swore that wasn't the reason he went back to England to visit his mother, but Lorraine always wondered. She certainly knew where the fare came from.
Madeleine found the novel Don had written and took it to a publisher. Don pretended to be annoyed, but it was with secret glee at the thought of becoming a famous novelist that he took off to the Chatham Islands to cover a story on the territorials. Alex, who was involved in the exercise, fell in love with the Chathams, and went back there to live.
Pip Osborn-Standish, Madeleine daughter, arrived for a visit and Madeleine was delighted to learn that she was to become a grandmother. She was so happy that she found extra compassion for a remorseful Pete, whose estranged wife, Patti, had died.
Gayle was back at school, sitting her U.E. Noah Forbes was one of her teachers. He pushed the relationship past acceptable limits and was forced to resign.
Don's disappointment in having his book rejected was tempered by the arrival home of his daughter, Lyddie, from England. She and Stephanie started a creche together, and Lyddie became very attached to Jerry, who'd returned to the Princess.
Romance was in the air. Riki and Maggie married quietly and settled down. Jerry and Lyddie were less settled. Jerry was a jealous man, and Lyddie came back from a weekend in Queenstown determined to end the affair.
It was around this time that Do was asked to support one of the other councillors, Dick Henty, in his bid for mayoralty. She agreed, and started working on his campaign. But David was worried about this, suspecting Henty of drug-dealing. This was pooh-poohed by Dot of course and she went off to a seminar in Christchurch with Henty.
She'd just arrived there when Stephanie rang to say that Ken was in hospital. A splinter of glass which had lain in his body since a car accident several years earlier, a worked its way into his brain Length treatment meant he only return home just bet Christmas.
It was a Christmas of goodbyes. David and Christine left for England, closely followed by Jerr'
1980

Dot wriggled out of the drug dealing case with Dick Henty. She was left with nothing worse than a bad attack of embarrassment. Ken assured her that something else would happen to swing the attention in other directions, and that certainly didn't take too long.
Riki and Maggie's somewhat stormy marriage settled a little when they found out she was pregnant. But Maggie was hit by a car, and though she wasn't badly hurt, she lost the baby.
People were still talking about Dot and her drug-smuggling colleague, but Ken's prediction was accurate. It wasn't long before everyone was involved in something even more embarrassing. Gayle, with a clear and cynical teenage eye, had written a poem about her family and friends. She never intended it to be used as the lyric for a pop song and when it was, the ensuing publicity hit Hal Mulholland and Shirley very hard. Few of the others escaped without red faces.
Stephanie set off round the world on a yacht, with yet another man, and Alice was left with Dot and Ken. More accurately with Dot, since Ken was in the middle of plans for expansion. He'd opened a factory and had dreams of becoming a millionaire from the proceeds of his new culinary delight, the Big Cheese. But Ken wasn't a good businessman and Dot persuaded him to employ a manager. The arrival of Fleur Chapman took much of the pressure off, and if Dot thought she was a little too attractive, she mostly kept her thoughts to herself.
A shady character called Eddie Meyer started work at the Princess. He was a thoroughly unlikeable type, and Don and Madeleine were worried when Lyddie became involved with him. His subsequent murder in Shirley's flat caused uproar and accusations. Maggie, believing Riki was responsible, confessed to the murder herself. She broke down under questioning and eventually needed hospital treatment.
Shirley moved to Auckland, and Lorraine joined Gayle at the flat. It was there, on a long and frightening night, that the real murderer was unmasked.
Madeleine had gone to Canada to see her new grandson, so Don felt he was quite entitled to take a trip on his own. His paper asked him to cover the Welsh rugby tour, almost as a retirement gift, and he leapt at the chance. Dot and Ken planned to accompany him. When the paper finally sent Chris Elsey instead, Don resigned in fury.
Ken and Dot went anyway, taking Alice. Stephanie was to join them in Wales, and so she did, a few days late and rather unexpectedly accompanied by another man. This time it was black American professor, Jake Stone. Ken and Dot were a little taken aback when she said she intended to marry him. They didn't have much time to discuss it however. Back home, Ken's baker had suffered a heart attack, and Ken took the next plane home.
And then trouble really started. He and Fleur Chapman had become romantically involved before he left, and when he returned home alone, they started a full-scale affair. Of course, Dot found out when she came back. And she left him.
Christmas was approaching, and the Pagets weren't speaking. Lorraine had become engaged to another man rather like her brother Jerry, an engaging rogue called Fletcher Martin. Gayle liked Fletch immensely. She had a new boyfriend, Charlie Teko. Shirley didn't approve of him but Gayle didn't like most of Shirley's boyfriends either.
Hal was having drinking problems again. It hadn't been an easy year at the school. He was looking forward to visiting his sister in Australia during the holidays.
What happened, of course, is that the New Year began with tragedy. Hal had been experimenting with welding in the basement of Mrs F's house, and during the New Year party his ineptitude was revealed when he blew up the house. He and Maggie were killed in the explosion and Gayle was badly hurt.
1981
The explosion and Hal's death had a strong affect on Lorraine. She broke off her engagement to Fletcher Martin, sold the Princess and went back to England.
When Gayle was released from hospital, she and Faith Wilson moved into one of Don's flats. Not the happiest arrangement, as it turned out, since Faith took her job as chaperone very seriously, Riki had a new flatmate too, though more by accident than design. Anne Craig, who'd been Maggie's room-mate at the psychiatric hospital moved in with him on a temporary basis which seemed to extend indefinitely.
Trouble seemed to follow Anne wherever she went. She introduced Ken to a man-hating friend of hers, Candy Waiters, and Ken got the worst of the deal.
Dot watched Ken's decline with some horror. She'd decided to get a consortium together to buy the Princess rather than let it go to the breweries. And though everyone was behind her efforts, the money required was more than they could manage.
The arrival of Sean Smith, a smooth young businessman, solved the financial problem, but brought Dot to the brink of an affair. She and Ken finally decided that thirty years of marriage should not be thrown away lightly, and she went back home.
Mrs F flew to Australia to look after her daughter, Ruth, who'd broken her spine. Ruth came back to New Zealand to live with her, and Mrs F was busy househunting.
Gayle had moved in with Riki and Anne and was working at the Paget's shop. Mrs F's return saw her out of a job again, and without much success in finding one. With the aid of Fletcher Martin Mrs F's house hunting was more successful. He found her a suitable house, though not for pure motives. He wanted their flat for him and his son, Scott Newman, who'd arrived from Ohakune. Fletcher, it seemed, had three children and a long-term de facto relationship with Scott's mother, Gloria Newman. He and Scott moved into the flat, and the shock of finding it unfurnished wasn't helped by Anne conning him out of his commission on the house sale to get Mrs F a new washing machine and dryer.
It was election year again, and Madeleine was heavily involved in the National Party campaign. She agreed to stand as a candidate, the culmination of years of work for the party, but fell foul of the ambitions of the electoral chairman. Her humiliation over her defeat was so great that she left the party and then went to Canada to stay with Pip and John for several months.
It was during this time that Don became interested in Ruth Smallfield, Mrs F's daughter. Ruth had been a sportswoman, and was very bitter about being in a wheelchair. Though Mrs F and Faith had major problems with her, Don made her smile. And Don enjoyed her admiration. In Ruth sees he was a famous man which boo ted his bruised ego. They started researching a book on amateur sport .This led them to investigate the mysterious death of John Barradine, a swimmer and politician twenty years earlier. The investigation brought Chris Elsey back onto the scene and provided a romantic interlude for Ruth. It also proved dangerous
Things came to a head when Mrs F and her friends protested about the opening of a new ip just along the road from her new house. Don was never sure whether the truck stopped because he agreed to leave the Barradine story alone, but it seemed the right thing to do.
Fletcher's quiet slum was transformed with the arrival of Gloria. She'd come storming down because Scott was getting involved with Anne, or so he thought, and Fletcher was soon firmly back under the thumb.
Ruth and Gay e opened a flower cart in the mall, involving both their unemployment problems and Anne discovered be vas four months pregnant. There was a mix- up over the identity of the father, both Scott and Fletcher being suspected, but she refused to name the real father.
Pete was homeless when Madeleine returned and ended up at the Paget's, minus the greyhound he bought from Fetcher. Dot drew the line at a greyhound in the house. He wasn't as upset as one might have suspected. He was hopelessly in love with the new' barmaid, Raelene Robinson, and only backed out of marriage a few minutes from the church.
1982
The Heartes haven't found retirement easy. In fact, looking at Pop Hearte, one's inclined to wonder if they will ever really retire. And after Don's retirement from the newspaper, Madeleine became increasingly concerned about him. She was secretly relieved when she heard he was interested in investing in the local giveaway newspaper.
Don bought most of the shares in the paper and took over as editor. Pete, homeless once again after Mrs F bought a house in Paraparaumu, was given the job of caretaker, and a free flat.
Business was hardly booming at the paper, but after a power struggle with right-wing journalist Winston Swift, it settled down. Hopefully it: will be a success.
Stephanie arrived for a visit with Alice and her husband, Jake Stone, an American professor of economics. And Ken was suffering one of his periodic bouts of homesickness. Eventually, but not without difficulty he persuaded Dot to sell up and go to live in Wales. But after a trip to the Marlborough Sounds they decided to move there instead.
Anne's baby, a boy, was born at the beginning of the year. Choosing his name took a little while. The arrival of Anne's mother caused a certain amount of strain, but then little James and Anne settled back into the flat with Gayle.
Gayle was finding university fascinating, but more difficult than she'd imagined. The blossoming of a romance with law student Simon Hunter meant she neglected her studies. Gradually she realised that Simon wasn't really interested in her. Badly hurt, she barely noticed the cheeky young electrician who was rewiring the flats and trying to chat-at her up. For a while, that is. Gavin Houghton has a way of making sure he's noticed.
The Houghton family was very different from any other family that Gayle had known. Jack Houghton, Gavin's father, was quiet and conscientious. Win Houghton was loud, merry and utterly unreliable. And Gavin's sister, Marleen, could be as irritating as any fourteen-year-old.
Gavin's proposal surprised Gayle. It surprised her parents, Derek and Shirley, too, and Derek tried to bribe her out of the marriage by offering her a world trip.
Meanwhile, Anne was becoming interested in a distant cousin, Duncan Chalmers. Duncan was a widower, living with his father, Alistair. They were both solicitors, and their background, of course, was very similar to the one Anne had been trying to forget for years. Gayle was certain Duncan was right for Anne, and did what she could to foster their relationship. In the end, her efforts proved worthwhile. Duncan and Anne married shortly before Gavin and Gayle.
Episode 722 (1982)
Credits
Director: Dan Mckirdy
Main Cast:
Anne: Deirdre O'connor
Anthea: Davina Whitehouse
Bernie: Simon O'connor
Det Con Farquharson: Merfyn Owen
Det Sgt Bennett: Kingi Morgan
Don: Tony Currie
Duncan: Ian Marter
Gavin: William Walker
Jack: Maree Mckeefry
James: James Noble
James Abernethy: Des Swain
John: Peter Dennett
Louise: Jacqui Anderson
Madeleine: Dorothy Smith
Marleen: Ruth Paul
Pete: Robin Dene
Roxy Mcgregor: Jane Waddell
Stan: Cliff Wood
Win: Susan Wilson
Remember the the wedding of Gayle Pritchard and Gavin Houghton?
1983
Final episode in its 8 year history screened 30/08/1983

Credits for that last episode:
Producer/Director: John Whitwell
Writers: Keith Aberden, Tony Issac, Anthony Noonan
Main Cast:
Bernie: Simon O'Connor
Don: Tony Currie
James: James Noble
James Abernethy: Des Swain
Madeleine: Dorothy Smith
Pete: Robin Dene
John Bach
Mark Hadlow
Charles Walker